2016 Dental Marketing Survey Results
There's a gap of information. As experts of online dental marketing, we noticed there was no information on the current state of dental web-marketing. Sure, there are plenty of articles out there that explain how to optimize your dental marketing. There are organizations that specialize in this, like us at Rockin Dental Marketing. But how many dentists were actually taking advantage of these tools? We can only speak for our clients, so we wondered what was happening with the competition. What is the state of dental websites?
Let's pause for a second and go over why this is important. With marketing, you always want to know what is going on with your competition. Don't know who your competition is? It's other dentists in your city. It's other dentists in your specialty. It's other dentists who accept the same insurance. And it's the concept of not going to the dentist. How will you know what grabs the attention of your future clients and what leaves them uninterested? Well, one way is to ask every single potential client point-blank, but that's not exactly efficient. The smart way is to monitor the competition and to monitor yourself, and look for what marketing techniques attracts clients. Luckily for you, we've already done all the research here.
Throughout the course of two months and well over a thousand hours of work, we conducted in-depth research on dentists and dental practices across the United States. We compiled more than 140 variables to examine with a statistically sound random sample of 1,000 candidates, generalizable to the dental state. Our attributes ranged broadly across all aspects of web marketing, from search engine optimization logistics to just the existence of a website.
Over the next few weeks, we'll be releasing the data from this survey, along with insights for each section. You'll be able to learn about the state of dental websites exclusively from our research and discover ways to effectively implement this gained information into your marketing techniques.
Credentials
Rockin Dental Marking is an online marketing and research firm based out of Los Angeles, California. As such, we have access to professional analytic tools and expertise on consumer insights. These tools allow us to critically examine the exact effectiveness of marketing and optimization techniques. And because of our extensive work with these products, we know exactly which details to look for with other dentists' online presence, even if they have differing strategies. Traditionally, we have used these tools to measure our clients and their direct competition. We then apply our knowledge to bring clients highly effective insights to their business. Through this, we help our clients to build engaging and useful consumer experiences, develop new and lasting relationships with their own clients and connect to their audience in a way that is relevant and effective.
Variables
We carefully chose our variables based on information that the most general consumers expect to find about a business and information that dental consumers specifically seek. We were able to determine these real components based on our keyword research and search engine analytics. We then added variables that are more marketing-specific, such as organic clicks, based on our experience-backed understanding of the field.
The categories this process resulted in are social media, search engine optimization and customer acquisition, business profile listings and general descriptive details. You can access the full list of variables with the survey results.
 Dentists are not marketing enough.
 Social media platforms aren't being maintained.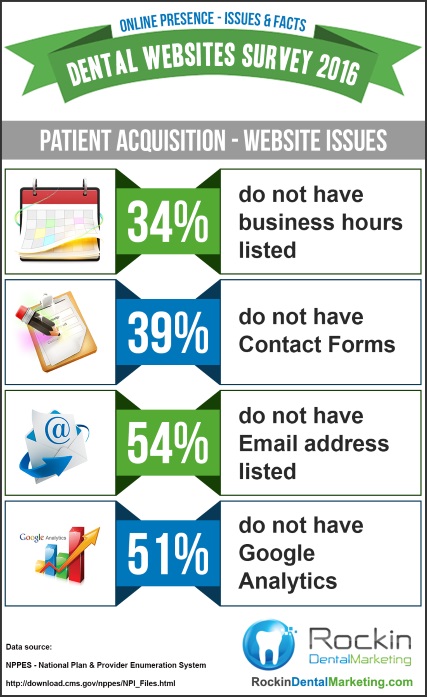 Some of the most important details are not being listed.
 Websites are not user compatible.
How to Benefit
We are releasing a series of articles which outline our findings on the state of dental marketing from our professional perspective. Remember, we specialize in online dental marketing. The images above give you some highlights, but our articles discuss in depth compelling aspects of dental marketing, include exclusive insights and explain how to translate survey results into marketing success. We will give you the tools to make use of our data.
Through our research and insights, we hope to benefit up and coming dentists, experienced dentists with practices, web marketing professionals and dental associations.The research we've done here is designed to measure your market. We've provided valuable information by highlighting common mistakes made — and showing just how common they are — so that you don't miss any more opportunities to excel. So take this opportunity to get ahead of the game and learn more about advancing yourself and your practice.
1,000 dentists were sampled through a completely random process, therefore allowing us to generalize these results to the United States population of dentists. 280,000 dentists were selected from 4.8 million records through the National Plan & Provider Enumeration System, and then a random number generator selected the final 1,000.
To determine presence of each variable for each dentist, real people searched variables individually. Google was our preferred search engine for directing us to their sites. We found information on dentists by searching for their name, address and organization.
The data was then compiled and analyzed to determine the overall presence of each variable. This is what you see in our images.
Four of our team members spent over two months researching, collecting and organizing data. This totaled approximately 1,440 hours of work. What's still to come are the insights we are currently working on and providing to you through our survey results articles.
Take a Look at our Detailed Results
SEO OPTIMIZATION AND CUSTOMER ACQUISITION
BUSINESS PROFILE LISTINGS